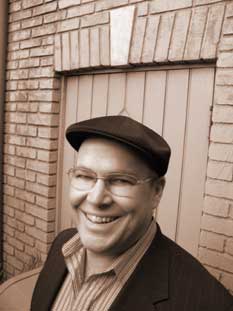 Dave Eastly hails from the soggy pacific northwest and after years of navigating his Top-40 band through every Holiday Inn, Black Angus and Tony Roma's on the west coast, he found himself smack dab in the middle of the greater Los Angeles area with more work than one musician can handle.
Yep, Dave's a busy guy. In addition to his River Rascal's gig, Dave dons his cowboy hat several days a week to play at Disney's California Adventure with a bluegrass sensation known as The Barn Cats. In the evenings one might see him at Disneyland's Carnation Plaza stage, where dapperly attired in his tuxedo, you'll see Dave lead his eleven piece big band, Swingtown.

Despite all of Dave's Disney obligations, he has managed to work in a few other gigs. He has been seen around town with the Long Beach and Santa Barbara symphonies, the Ringling Bros. circus and Helen Reddy. On the big screen Dave's endearing mug has graced such films as "Turbo Power Rangers", "Hollywood Homicide", and "Princess Diaries".

In his remaining free time, Dave can be found chasing his kids around the pool or washing his massive behemoth Ford diesel that we all affectionately call "Big Stinky".