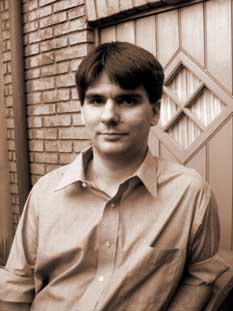 The youngest member of The River Rascals, Jon-Michael Kubis began his musical career at age 4 when he began pounding keyboards, and making all kinds of weird noises with (what are now) vintage synthesizers. By his freshman year in high school he was musical director for annual musicals, handling both arranging and performing the scores. After graduating from Huntington Beach High School's esteemed Academy for the Performing Arts, Jon began attending Golden West College and playing in the Golden West College music improvisation class.
In his fifteen-year career, Jon has performed with such greats as Steve Allen, Jack Sheldon and Chris Calloway; daughter of famed Cab Calloway. He has worked as an audio engineer for National Public Radio, Wayne Bergeron and Andy Martin and has assisted on several album projects. Jon has won awards for everything from his signature jazz solos and musical compositions, to sound design. He conceptualized and wrote the pit arrangement for Gladiator, the 2003 Martin Luther King High School drum-line competition show.
When not performing, Jon can be found writing Windows software, producing and engineering CDs for various artists, and developing web sites. Jon enjoys playing an endless variety of musical styles, and recently introduced a new note of authenticity to the River Rascals with his down home accordion playing.